Calvin, I get it, dating Taylor Swift changes a man. You'll probably never look at red lipstick and 50s style bathing suits the same way ever again. To go and make this album after what I can only assume is months and months of heartbreak is admirable. But this isn't a tabloid and I'm not Ryan Seacrest, so let's get to the music.
If you were in college in 2012 you most likely spent at least one night in a sweaty basement drinking lukewarm beer while "Feel So Close" or "I Need Your Love" blasted over some guy in a basketball jersey's speakers. So how did Calvin Harris go from pumping out soundtracks to sorority recruitment videos to creating, Funk Wav Bounces Vol. 1, a superstar-laden funk-synth-pop album? I had to find out.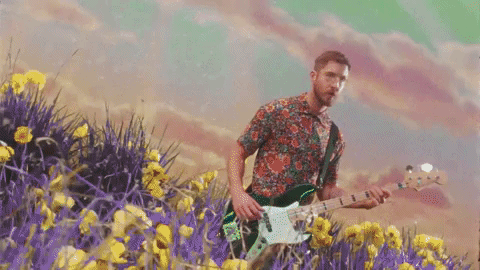 Calvin Harris looking very ~cool~ and ~wavy~ and ~chill~
Last February, we were all treated to "Slide," the first track off of the Scottish producer's 5th studio album and boy oh boy, did it exceed expectations. With features from Migos and the notoriously picky Frank Ocean, it seemed like Harris was gunning for song of the summer. A wandering bass line, Ocean's layered vocals, and Quavo & Company's autotune verses make for a 2017 love song via 1983.
Am I a Calvin Harris fan? How would I break this to my family, my friends?
A little over a month later, Harris struck gold again, assembling three powerhouse artists for his single, "Heatstroke." The track begins with Young Thug's signature warble over a gentle synth jaunt, another fun bass line, and a pretty sweet bongo bounce. Thug's speak-sing-rap verses are accented by Pharrell's plead, "Please/Let go/And have a good time." Thug answers "Have a good time yeah/Have a good/Have a good time." Well, don't mind if I do. The multi-talented and top female pop vocalist Ariana Grande — yeah, you heard me Adele fans — is enlisted for the hook, and as always, she delivers. Harris seemed to once again have a summer anthem on his hands.
In May, fans were blessed yet again with "Rollin'" — Harris' third single in four months. Harris continued his trend of proving that he is not only able to recruit the biggest names in music but has his ear to the ground for fresh talent. For "Rollin'" he brought both Future and Khalid on board. This track cemented Harris' commitment to his new brand with an addictive synth lick and a slappy bass line.
Calvin Harris actually had the balls to feature Future on a disco track. Yeah, I couldn't believe it either. After Khalid's crooning, Future comes in with his brand of introspective mumbly autotune, forcing you to groove along to lines like, "I gotta accept that I'm a monster," and, "Gotta be on codeine to think of shit I say." Geez…bummer, man.
I had questions. Was this album about to be amazing? Am I a Calvin Harris fan? How would I break this to my family, my friends? Will I still have to buy tickets to Electric Zoo or go to a club in Miami just to see him live? Does this mean that there's still hope for the Chainsmokers? (There isn't.)
Single number four off of the album, "Feels," dropped in May and tempered expectations a bit, which was strange considering Harris landed Katy Perry, Pharrell, and sensei of features, Big Sean. The faux Caribbean disco track isn't necessarily bad, it just lacks the punch of taking established names out of their comfort zone. Although Pharrell presents some of his best falsetto, the bubblegum hook from Perry was predictable and the verse from Sean was unexciting. Honestly, it sounds like a B-side from Perry's 2010 Teenage Dream.
In late June, Funk Wav Bounces Vol. 1 dropped in its entirety. Four of the 10 songs on the album had already been released, so there wasn't a terrible amount of fanfare surrounding the drop. "Skrt On Me" featuring Nicki Minaj was the first non-single track I gravitated toward. Although Harris' funky guitar riff and tempered reggaeton production is fun and dancey, Nicki's patois sing-song verse had me nervous. It turns out, I worried for nothing. Two minutes in, the track flips and Nicki delivers the best verse on the album. Classic Nicki.
"Cash Out" featuring ScHoolboy Q, PARTYNEXTDOOR, and DRAM, and "Holiday" featuring Snoop Dogg, John Legend, and Takeoff are both quality tracks. Although they aren't immediate classics, both provide exactly what Harris needed with a brand-shift album — consistency. In "Cash Out", ScHoolboy Q's verse stands out. It's unique and proves that ScHoolboy can spit over nearly anything, although the line, "Party like it's 1980" is a touch on the nose for an album supposedly influenced by the golden era of funk.
In "Holiday" John Legend delivers some beachy vocals to a deep, trippy synth track while Snoop brings his timeless flow. However, Takeoff's verse is forgettable and minimizes the potential of the song. A second verse from Snoop could've improved the track ten-fold, and if anyone can afford it, it's the man Forbes listed as the top-paid DJ on their Celebrity 100 list of 2017.
Overall, the album was a surprising and quality effort stretching across genre lines and helping to break down barriers between EDM, pop, and hip-hop. Funk Wav Bounces Vol. 1 is effortless and surprisingly fresh. It proves once again that posse cuts are not just reserved for rappers. It also cements that Calvin Harris is cool now, and not like club-kid cool, or try hard cool, but genuinely fun and good-music-making cool. Here's to the evolution of pop, summer music, and (gulp) Calvin Harris.
Sneak over to your neighbor's pool and listen to to the whole album here: